Shared Narratives: HBAP Pitch Winner Suman Roy Tells Her Story
Kelsey Burhans | November 2020
The most recent winner of the Harvard Business Analytics Program (HBAP) Pitch Competition has been leveraging her own expertise and that of enthusiastic advisors to weave a successful narrative for her company, Alena's Storytime. In this article, we'll touch base with Suman Roy about her ongoing entrepreneurial endeavors, and hopefully inspire the next wave of HBAP entrepreneurs for the upcoming competition in January.
Origin Story
Suman has always been an avid learner, and views this as an especially important way of keeping up with a fast-moving world. She first acquired a Master's degree in Computer Applications, and through motivation from key mentors and her family, she decided to pursue new skills in leadership and analytics. Through those pursuits and her time in HBAP, she faced a consideration encountered by many working mothers – how can she simultaneously be the caring mom she wished to be while also nurturing the growth of her career? However, despite initial thoughts that being a mother might be a limiting factor, she soon realized this was, in fact, an immense source of strength. "If I can be a mom, I can do anything," she shared, noting that we all have great potential within ourselves, but often don't realize it until we are given something to overcome.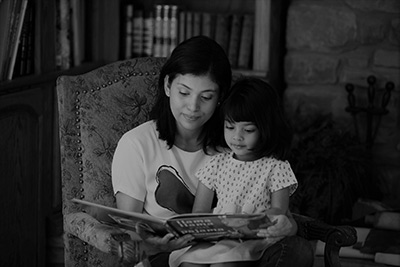 Having faced challenges as an immigrant from India to the United States, a woman in tech, and a new mom caring for a premature baby, Suman came to the conclusion that empathy was a core component of these experiences, and used that as a motivator for her business idea. For new parents in particular, she found that there was a shared yet subjective uncertainty parents face in learning how to nurture their children as individuals, and they often look to each other for guidance. Suman also found that books were a crucial part of caring for her own daughter, Alena, who would cling to her favorite story as a self-soothing technique, reassuring her that "Mommy is always near, even if she's not here."
Creating Alena's Storytime
Having acquired some inspiration from her own parenting and the ingenuity of fellow parents online, Suman formulated her idea for Alena's Storytime, a platform for parents, authors, illustrators, and researchers to collectively produce and share narrative content. Though she already has the technology background needed for this venture, she began exploring the collaborative and creative spaces that would be critical to building the platform, and gained an understanding of the ways in which these communities could connect with each other. The judges in the finale of the HBAP Pitch Competition were intrigued by the prospects of this solution, viewing it as a project with great potential and scalability over time as the stories and networks grow alongside their users. Suman also tapped into the expertise of her HBAP peers, gleaning insight from their experiences in spaces that would prove useful to Alena's Storytime's future implementation.
The Next Chapter
Following the competition, Suman's win enabled her to sit down with Deborah Quazzo, Managing Partner of GSV Ventures, and received targeted advice about her next stages of development. Deborah echoed the judge's sentiments that a strong focus on content and brand identity would be crucial for Storytime's success. She also suggested competitive lenses through which to explore new pricing, business models, and tiered content for different age groups. Suman also graciously credited HBAP for its support before and after the win; she was particularly grateful for the knowledge gained from the Data Driven Marketing course and the assistance of her HBAP colleague Lars Orloff, who has lent his expertise in the areas of concept and strategy development.
With all this wisdom, community support, and momentum behind her, Suman is excited for the next steps in Alena's Storytime's trajectory. She is attributing time to building the platform, as well as pursuing key partnerships with other organizations such as publishing companies, parenting forums, pregnancy apps, and more. In the long term, Suman is excited for her company to grow and transition alongside the parents it serves, and expressed that she would love to eventually partner with an animation company to develop and franchise a suite of cherished characters. She admits there are a lot of unknowns, but reflects that becoming a mother strengthened her and made her more comfortable with that uncertainty. She remains driven by the desire to help other families meet their unknowns, especially during the early formative years when most brain development occurs. "I want that experience to be the best experience, for parents, for children," Suman notes, emphasizing that building a community like this is intended to let all who interact with it know that they do not have to write their stories alone.